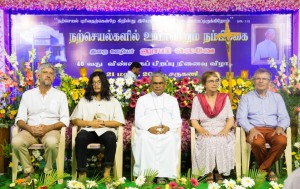 Names of the relatives:
Mrs. Solange Raffray – a grand niece of Fr. Leveil.
Mr. Jean Orain – the husband of Mrs. Solange
Mr. Philippe Raffray – a grand nephew of Fr. Leveil
Mr. Samuel Raffray – son of Mr. Philippe
The family people of the Servant of God Louis Leveil participated in the 46th death anniversary of Fr. Leveil at Sarugani on 21 March 2019. They also visited the parishes of Nagarikathan, Andavoorani and Ramnad where Fr. Leveil fulfilled his mission and admired at his tremendous service to the poor people of the Diocese of Sivagangai.